The widespread adoption of mobile technologies spells good news for the move towards a share economy in today's world. The ubiquity of handheld devices with mobile data capabilities, provides unprecedented opportunities for people where ever they are, to reach out to each another, collaborate and share anything for economic advantage.
With about 1.2 billion smartphones in the world today and global mobile phone and smartphone penetration predicted to be up to 69.4% and 33.8% respectively by 2017 (eMarketer, 2013) we expect about 1.06 billion more people online – all of them potentially new users of, and contributors to, the digital sharing economy.
According to the GSMA, developing countries will account for the largest proportion of new mobile phone users and will engage in online activities first on feature phones before making the  transition to smart-phones.  For the purpose of this article, we will consider all mobile phones with data capabilities, 'smart' – both feature phones and 'smart-phones' and assume handheld devices to include tablets as well.
The share economy is alive in different forms on the World Wide Web from finding  cheap lodgings through Airbnb, to earning a diploma from Coursera, from financing an idea or product with Kickstarter, to organising a ride somewhere with Lyft and borrowing money from  Zopa. More recently, sharing educational resources has become very popular. Open Educational Resources (OERs), self help Wikis and informative YouTube videos established a precedent early on for open, collaborative and community-type online education platforms. Nowadays, the idea has reached a certain maturity in what are popularly called Massive Open Online Courses (MOOCs) of which Coursera is the poster child. While a bulk of other popular MOOC platforms are of North American origin, like EdX and Udacity, a good number from Europe with are catching on with learners – FUN, OpenClassroom from France, Eliademy from Finland, Future Learn from the UK and Orange's Solerni and MOOC aggregator site StarAfrica for its Francophone African audience.
A Massive Open Online Course (MOOC) is an online course aimed at unlimited participation and open access via the web. In addition to traditional course materials such as videos, readings, and problem sets, MOOCs provide interactive user forums that help build a community for students, professors and teaching assistants. (Source: Wikipedia)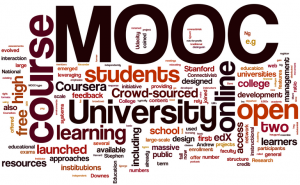 MOOCs as a shared economy resource, present a viable platform for schools, governments and in fact any organisation to share proprietary curriculum and learning materials, facilitate collaboration, drive innovation and encourage a lifelong learning culture across the world.
According to Forbes Magazine, MOOCs reflect the share economy at its most promising. 'Most promising' indeed, particularly in light of recent predictions of increased use of mobile devices, the continuing reduction in cost of smartphones and mobile platform provider commitments to produce cheap smartphones with just enough computing power for basic online services.
The growing importance and prevalence of m-Learning would qualify mobile learning tools and services for the 'basic online services' tag along with instant messaging, email, social networking and web services.
If you have watched a YouTube video on the go to learn how to cook a new meal and left a comment on how you dish turned out or taken a MOOC exam on the road or watched a
TED
video sipping on a latté at a coffee shop, or formed the good habit of using your Duolingo app for language practice, congratulations, you are a good citizen of the digital share/ m-learning world.
Mobile Learning is available in three forms:
• Educational apps on smartphones
• Pre-loaded apps/bundles on hand-held devices for offline service
• Subscription based Mobile Value Added Services (VAS) : Mobile Learning VAS are subscription-based products sold directly to customers and organizations by telecom network operators, device makers, and content suppliers. The content is usually delivered over mobile networks via audio, SMS, or Interactive Voice Response (IVR).
According to the 2013 Global Mobile Learning market report by research company Ambient Insight, Asia leads the global m-Learning market with 98 m-learning VAS products. Africa has about 44 m-Learning VAS products which however is more than twice the number in North America, Europe and the Middle East. Africa, by leapfrogging the phone landline age and passing directly to the mobile Internet, has by far the most sophisticated use of mobile phones and highest growth rate in areas of m-banking, m-health and m-Learning than anywhere else in the world with mobile phone access outnumbering PCs by 16:1 (MobileModay, 2011)  In fact more than 50% of Africans accessed the web exclusively through a mobile phone in 2012 (Source: Samsung, see Ambient Insight Report) 
m-Learning VAS in Africa, typically deliver exam tutorials, health care tips, language learning and a variety of topics that cut across all age groups. MxiT, one of Africa's largest home-grown social network and a mobile native platform provides its millions of subscribers, mostly young people, with exam revision materials and live chat sessions with instructors to help with math problems, usually in the evenings when most school children are working on their take home assignments.
OEMs and software companies focus on providing pre-loaded content or free access to apps stores on their branded mobile phones or personal learning devices. Nokia for example, provides mobile learning content in 18 different languages on agriculture, mathematics, healthcare, livelihood and spirituality via SMS. Its Nokia Life program reaches over 70 million subscribers in Nigeria, India, China and Indonesia. Alltell limited a Ghanaian enterprise, Barnes & Noble, Google, Intel and Samsung all have branded tablets with pre-loaded content or educational apps, videos and books for school children. Guardian UK recommends a couple of useful educational apps for children, here.
In February 2013, Microsoft and OEM Huawei
launched the three-year, $70 million Microsoft
4Afrika Initiative. The initiative plans to provide phones with content
designed for African by Africans and help place tens of millions
of smart devices in the hands of African youth –
mainly university students, developers and first time smartphone users.
(Sources: Ambient Insight, Technet) 
Mobile MOOCs
MOOCs are currently making a transition from PC based e-learning services into mobile. Coursera, Udemy and Khan Academy now have mobile apps on Android and iOS appstores, joining the plethora of m-Learning services already available in the market. There are now more than 500 mobile learning applications available through Google Play and Apple's iStore including Hewlett Packard's m-learning app, SAP's OpenSAP demonstrating organisations' commitments to the digital sharing economy.
To transcend language barriers, m-Learning services are translated into multiple languages through crowdsourcing. Top MOOCs on Coursera for example, are translated to native languages by participants of the Coursera Global Translator Community. Industry observers and practitioners see crowdsourcing as the solution for effective MOOC course work assessment considering the impossibility of individual student assessment by instructors or facilitators. Another example of collaboration in the mLearning space is Duolingo, a free language learning app that leverages crowdsourcing for translation services such that best translations from users are combined and used for full translation of online materials like Wikipedia entries.
Talking of Wikipedia, the world's largest collaborative platform is also at the forefront with its Wikipedia Zero service that provides free text only access to Wikipedia on mobile phones through SMS. A mobile user after  subscribing to the service is able to search keywords using USSD interaction and results of selected matching articles are sent as text messages.
The enormous potential of m-Learning
The possibilities are limitless with m-Learning especially as the share economy catches on.  The beauty of share for m-Learning is that it provides a platform for knowledge diffusion across borders. The worry for MOOCs around the world especially as North American founded platforms gain ground is the one-sided flow of information from the so called global north to global south nations. With m-learning and high mobile adoption rates, more people in the global south can now have access to and participate in the digital share economy.
The mix of the social media feel, flexible learning and a sense of community that m-learning brings could foster bi-directional diffusion of indigenous ideas, knowledge and technical know-how. It is not too hard to imagine a world where students from Nigeria, Gabon, France, USA and China can collaborate on school projects and learn from one another through m-learning tools regardless of language barriers. And where multi-national organisations can  find solutions to facilitate knowledge transfer and collaboration among staff, clients and vendors from different parts of the world.
The more smart phones that make their way into the hands of users around the world, the smarter we all become with more opportunities to learn, share and collaborate on things that make our world a better place, and us much more smarter people.
My current MOOC favourite is SAP's OpenSAP. Check it out it here – it's also available on the appstore.
What are your favourite m-learning apps / MOOC platforms and why? Serious games count too!
For more on…
Share Economy and MOOCs
1. Share Economy Comes to Education: Notes from the MOOCs Experiment
2. MOOCs bring the share economy to education
3. Scaling the Sharing Economy: From New York to Topeka and Beyond
4. THE POWER OF SHARING :Exploring the Digital Sharing Economy at the Base of the Pyramid
Smartphones and m-Learning in Africa
1. Cheap Devices, like Mozilla's $25 Smartphone, to bring more of developing world online.
2. MOOCs: Testing Higher Education's IQ
3. More Africans learn by mobile phone
4. Open Mobile Ambient Learning