Do we really need a 2K or even a 4K display on our smartphones?
The on screen battle for bigger and better displays
As  the smartphone revolution progresses, from the first phone with a screen, to the smartphone with a color screen in 2001, phone manufacturers around the world continue to innovate with screen design and quality. Apple in 2007 led the way for larger, touch screens with the iPhone, although its screen resolution  was rather ordinary even for that time, when many phones had a higher pixel count than the 164 pixels per inch (PPI) of the  iPhone. Since its introduction, other manufacturers have  released smartphones with bigger touch screens and higher resolutions. E.g. the HTC HD 2 with  4.3 inches screen with 480 x 800 pixels and 217 PPI, and one of the biggest screens when it was released in 2009 the Samsung Galaxy Note with 5.3 inch screen and 1280 x 720 pixels offering 285 PPI.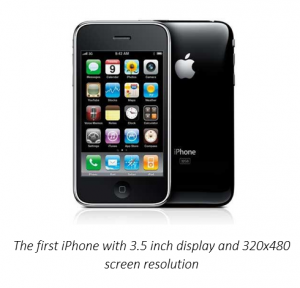 Apple however, for a long time, decided to concentrate on improving resolution rather than increasing the size of the real estate on their phones. The iPhones 2 through 4, keeping a 3.5 inch screen a but with the 4 offering  a much higher screen resolution of  960×640 pixels, giving  326 PPI.  Steve Jobs gave the screen a name: Retina Display. ¹ The display of the iPhone 4 has a PPI rate so high that normal eyes cannot see the small pixels on the screen using the phone in the normal position. From then on the race has been to higher and higher PPI.
Can we actually see more clearly with  high resolution displays?
Back in December 2012, HTC introduced the world's the first smartphone with a Full HD display, the HTC DNA for US carrier Verizon. The following year, many phone makers followed suit:  Samsung Galaxy S4, Sony Xperia Z, and the LG G2. People started asking a  new question: "Can we see the pixels in those 5 inch Full HD displays?" Let's look at some characteristics of the Full HD display:
True Retina Display: The effect resolution of human retina is really much higher than what Apple suggested when they unveiled the iPhone 4, and corresponds to somewhere around 600 PPI viewed from a distance of 10 inches,  and by someone with  20/20 vision. That is a lot higher than 468 PPI in the HTC One (one of the first Full HD smartphones) and 441 in almost other smartphone Full HD display, so to thehuman eye, the higher resolution should be visually apparent. All the same , there are very few people who have  20/20 visual acuity even when corrected.
Enhanced Acuity: Sharper screens do  bring advantages to the users however, we can benefit from the higher resolution display in considerably finer image detail because the human brain is building an integrated visual image map. So if people are looking at image with finely detailed graphics and small text, most people with reasonably good vision will be able to make out and appreciate the extra sharpness and image detail.
Photos and Videos: Unlike text and graphics which have precise pixel arrangements, photographic images are inherently fuzzy because the image detail is spread over multiple pixels, and with movies and videos, there are images continually changing so a fair amount of image detail is often visually lost due to its transitory nature. So for photos, movies and videos the extra sharpness and resolution will be less apparent.
Do we need more than Full HD on our phone?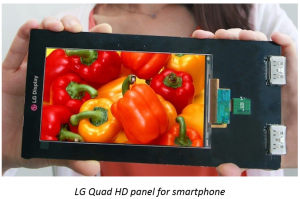 LG certainly think we do. In August 2013, LG claimed that it had produced the world first Quad HD (2560×1440) smartphone display, which also boasted the highest pixel density of any mobile phone, with 538 ppi (on a 5,5 inch display). This screen uses AH-IPS technology and low temperature Poly-Silicon substrate and has 430 nits ( unit of visible-light intensity) of brightness.
LG Display's Quad HD panel for smartphones realizes clearer images with 4 times more pixels than HD at 1,280X720, thereby reproducing more delicate colors as well as improving contrast and vividness when compared to current mobile displays. This advancement will enable consumers to fully enjoy more life-like and crisp images, and even Blu-ray equivalent video, on their smartphones. The panel also features the highest ppi among current mobile device displays. In addition, the new Quad HD panel will enable users to enjoy a full view of PC-version web pages at a single glance without image distortion; a contrast to current Full HD displays which only realize 3/4th of a full screen. Also, even when enlarging the screen, users will be able to enjoy undistorted and sharper text
So is the QHD screen (1440p) better than a Full HD (1080p) in the same way that a Full HD screen is better than an HD screen on a smartphone?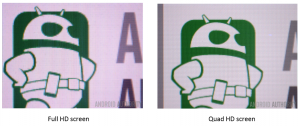 From the two pictures above (from the same manufacturer – Oppo with two models the Oppo 7 and the Oppo 7a) we can see that the Quad HD screen is noticeably clearer with much smaller pixels. The result of this, is a much crisper display, smoother images and text, and maybe a be an improved reading and watching experience. Still, display quality is not only measured in terms of sceen resolution but include color reproduction, viewing angle and brightness. These are more dependent on the display technology employed be it LCD, SLCD, IPS, AH-IPS, Oled or Amoled)
Higher screen resolutions also have drawbacks:
Higher resolution means more pixels, more pixels means more power to light the pixel and the screens need special design to have enough backlight to push up the pixel (with LCD technology) and more small pixels to light up (with Amoled technology)
Higher resolution also means that the graphic processing unit (GPU) of these device has to be more powerful to manage huge number of pixels, which in turn requires  of more powerful chip set, generates heat and battery problems and also pushes up the price of the smartphone.
As well as a more powerful  GPU, a stronger central processing unit is also needed (CPU), with more pixels to light  batteries drain  much faster and if manufacturers don't improve the battery quality, the user will not have enough power to keep the high resolution screens going for long enough.
What is the future of smartphone screen resolution?
In October 2013, Vivo – a Chinese smartphone manufacturer announced the Vivo Xplay 3S, the world's first smartphone Quad HD smartphone with a 6 inch screen, with a 2560×1440 resolution  pushing  the PPI to 490 and from that moment on , the war of Quad HD displays on phones started. Right after Vivo, Oppo unveiled their own weapon, the Oppo 7 which also carries a 2K (Quad HD) display. With rumors about the upcoming flagship from popular phone makers such as LG and the LG G3's introduction on 27 May – using the 5.5 inch Quad HD panel which was introduced in October 2013. Samsung is also said to be launching the  Samsung Galaxy S5 Prime with a 2k display using Amoled Technology in June and the Galaxy Note 4 in September, while HTC will have the HTC One M8 Prime in September. It is clear that the flagship standard of smartphone display in 2014 is Quad HD . What the users will make of these improvements is anybody's guess but it seems that  higher screen resolution for smartphone will continue with rumours of even higher resolutions before very long. Ironically smartphone users rarely complain about screen quality, jerky playback aside, and they are far more concerned about battery life, camera quality and the general user experience but manufacturers improve what they are able to improve rather than what they should !
 ¹In fact Retina was first used for Kodak cameras!
For more information see: