Imagine that you spent almost of your pocket money and it is still half of the month ahead of you. Have you ever been to a party and the next day you realized that your wallet was empty? Or maybe you are keen on going shopping and carelessly spending money? Has it ever happened to you? Or maybe you have been in other rigid  budgeting situation before? Once you have experienced this, it might be good for you or even essential to start tracking your finances. There is no better and faster way to do it than using applications for smartphones. Obviously, there is a  possibility to managed your budget from computer. You just simply log in on your account and vast range of things is now able to be done.
          But the question, which arises just after decision of tracking our finances, is which application to choose? In fact, giving an answer for that question might be really difficult. Thousands of these applications can be found over the Internet —  free or paid, developed for iOS, Android, Symbian, WindowsPhone or Blackberry's operating system. Out of those thousands, without any doubt there are few the best applications, which three of them will be described below.
Mint:

            This application is concerned by many people as one of the best or even the best. In terms of finance tracking, it beats most apps out of the water with ease according to a number of reviewers. Being completely free and developed for Android as well as for iOS ­— for phones and tablets — is just one of its advantages. But the other plus of Mint is the way of working. Mint is connected to almost every US banking financial institution but has experienced problems with both the Bank of America and  more importantly with a leading student loan organisation the ECSI
What does Mint do exactly?  Well it automatically puts all of financial information in one place so that you are able to get the entire picture. All you need to do it to add all of your accounts — bank, credit card, loan, retirement and more — and the Mint will create your info and group your transactions. It can calculate an average amount of money spent and on the historical analysis it can predict the future budget or propose the plan of savings. To help you visualize your budget, graphs and charts provided by Mint are truly useful. In addition, you are able to set goals and the Mint will monitor your progress in achieving them.
 Furthermore, the module of investments gives the great  opportunity to control investments by providing special graphs and comparison between bounds, shares and other types of investments.
          Moreover, the messages about uncertain purchases are sent in order to inform you of unusual transaction. Another extra feature is tracking your bills — you can easily organize them in one place and Mint will provide you with alerts reminding of payment deadline.
Overview of Mint budgeting application
Toshl:
          Another one of the best budgeting application all over the world is Toshl. Similarly to Mint, Toshl is free of charge. In terms of development for special operating system, without any doubt this application is the best. It supports iOS, Android, Symbian, Windows Phone and Blackberry's OS.
          Compared with Mint, Toshl application does not require you to connect your bank account. The only thing you have to do is to upgrade your income and expenses manually. Moreover, Toshl keeps analysing your finances — it compares your current expenses with those in previous months. It is worth saying that Toshl like Mint is not only able to generate graphs but also is able to set goals and monitor the progress in achieving them.
          But what if this not enough for you? If you need more options, you can easily upgrade your account to Toshl Pro ­— it costs you only 20$ per year. So the question arises — what does it have more to offer?  Starting with the opportunity of adding more incomes, it also provides the repetition of expenses and income. You simply don't have to add for example bills each month. Only thing you have to do is to tick those expenses and incomes which you want to repeat monthly.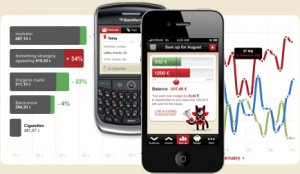 Moreover, you can have more than one budget. The Toshl Pro also gives you chance to export your finances to many different files (Exel, PDF, Google Docs, CVF). Finally, with Pro version you have many other options connected to Toshl website — setting up monthly reports, exporting special tags or months and also generating advanced graphs. To have this all you just need to have Toshl Pro!
MoneyBook:
          The third application, which due to reviews many people consider as one of the best, is MoneyBook. Unfortunately it has been only developed for iOS so you have to have iPhone to use it. It is a paid application —€2,39.
          The idea of this application is similar to those described above — mainly you add income and expenses in order to control your financial situation. It can be easily said that the beautiful, user friendly interface is the biggest plus of MoneyBook. Another thing worth mentioning is the fact that MoneyBook has the password protection — once you stop using this application you need to log in once again. Whereas other applications remember its users which might cause safety problems. Moreover, it has been developed in many languages, such as English, Chinese, Dutch, Finnish, French, German, Italian, Russian, Spanish and Swedish.
          Similarly to other applications, MoneyBook offers us adding income and expenses. Tracking our budget and salary mode. Good thing in MoneyBook is that you can put the information when your finance month starts.
     When extra features are concerned, MoneyBook offers many of them. Firstly, you are able you add notes to your transaction with a truly nice design. Moreover, the number pad with calculation option is available for users.  Obviously, MoneyBook generates some graphs, but it also generate whole statistics for each category.  Another extra feature is that you can use your currency — chosen from iPhone region settings.
Overview of MoneyBook budgeting application
Threats:
          After having read description of all budgeting applications, at first we are overwhelmed  by the number of features there. We might be willing to download one of them. But then a second thought comes into our minds. Is it safe? Will my data be safe and my transactions secure?
          Imagine you have your phone stolen. Mostly in those applications you don't have to log in each time to use it. It remembers you, which brings enormous risks. Someone who has stolen your phone will have information about your finances; income, expenses, investments and so on.  What is even more dangerous in Mint applications is the fact that it is connected to your bank account. In that case, the thief  has not only information, which you put on your own. He will have knowledge about every single transaction you have made.
          Another important aspect to consider is the fact why would we choose an application like these  and not one from our own bank? Why do we trust them more than our banks? It might be our bank has not developed a good mobile application, after all, apps are not what they are specialised in. Certainly these apps are marketed very strongly. There are plenty of videos presenting budgeting applications over the Internet. All of them are made in a certain way to sell this product but designed so that we do not think about any trust or safety issues. We do not pay any attention to terms of use or how it is protected.
         Moreover, we should know that those applications are not perfect and we should not put all our trust in them. For example, Mint has been facing many problems with categorization. What does it mean? Basically, labels put on expenses were badly categorized. Bill payment was put into alcohol category and money transfer to another account was put in entertainment. This can lead to  misunderstandings and one person had to go to his bank to check it. Trusting  applications too much  can  cause problems and sometimes it is the waste of time to check those transactions simply because of bad categorization.
         But what's about addiction? Many people get used to things quickly. What if we become addicted to those application so that we stop controlling our budget an  rely completely on Mint or Toshl? No, we should always be responsible about our purchases and keep track of our financial situation. But are those applications able to make people responsible about their finances?
       Moreover, have you considered problems with stolen identity? Once you connect to Mint, it has every information about you. Starting with you bank accounts, credit cards, loans and investment, going through your phone numbers, address, type of car you own, the number of children as well as information about your health issues. Furthermore, data about other valuable property or debt is collected. Don't you think it is a really dangerous threat? Once someone is in possession of such information it becomes easy to steal your identity!
         We should always remember that things shown in advertisements are not as perfect as they seem to be. They might have many issues. In fact, we should realize that many problems may occur. Using these applications correctly, they might be helpful but if we are not careful it would be safer not to use them at all.
References:
This article is based on reviews and general opinions expressed by users about budgeting applications – found on AppStore.