What connects preventing house fires, solving international conflicts and practising for a job interview? The answer is that you can learn how to do all of these things through playing a serious game. Gamification seems to be the new way of educating and informing citizens in an entertaining way. In July 2013 the IDATE (Institut de l'Audiovisuel et des Télécommunications en Europe), a French and European organization collaborating with the Digitworld Institute, published a study on the 'serious games' market in Europe (see link at end of article). According to them, the 'serious games' market is already worth over €1.5B and might reach the ten billion in 2015. The annual growth rate of the market may climb as much as  47 % between 2010 and 2015 and could double in the next few years. Indeed even if the idea  has already been widely developed in the United States, the trend is growing in  Europe and not just in management and business communities.  In education, health, communication or even national defence, serious games are becoming more and more attractive to companies. And as  predicted in a recent study  by Ambient Insight serious games are going mobile!
Of course educational games have been on mobile devices for a few years now. In 2005 Brain Age on the Nintendo DS handheld was an enormous success and heralded the launch of a number of other companies to develop games stimulating mental agility, logic and calculations, maths games particularly. Until recently however these games have been unavailable more generally on mobile phones. All that is now changing. Math Blaster, a tremendously successful on line resource now has associated mobile app, while for algebra you have Dragonbox and Fit Brains will help you exercise your grey matter. You can play doctor on your phone in Puzzle doctors and why not build an environmentally friendly town with Gaiatown ?
So let's look a bit closer at these serious games, what are they and how do they work ?
A serious game invites the user to interact with an internet application that combines learning, training, information and communication aspects through entertaining and amusing technologies, just like video games. The aim is to deliver an informative and intellectually serious content to the user with a gaming approach but with a learning outcome. Serious games are used in many different domains; from helping autistic children understand their environment to preparing American soldiers how to fight.  The use of serious games has been considerably developed in the professional world since the year 2000. Businesses use serious games frequently for in-house and vocational training as well as for the recruitment of new employees.  They are very efficient when it comes to assessing and evaluating a job applicant's behaviour and his or her skills. The use of these games can also be an asset for the company if they wish to improve employee performance. Indeed, the employee can appreciate it and learn a great deal because he or she will be an active rather than a passive participant in the learning process. 'Job' simulation modes can present realistic situations where  problems need to be dealt with and alternative strategies can be explained more easily. According to a study published in May 2014 by the AFJV and the company Safran, 25% of Human Resource directors use serious games and 90% of the employees who have tried them out declare that they have fully met their expectations. Even if in the United-States, serious games  production is mainly triggered by the interest and demand of the public sector, in Europe, designers have turned themselves towards a more receptive client, the private sector and business companies. Large companies such as Barclays  have been active in serious games since 2007 in an effort to improve their image internally and externally.
Serious games for serious causes?
Ignition Factory published a study this year (Serious games, the age of reason?) analyzing the market and current trends. According to their study, even if serious games are mainly used as innovative training tools, they are also extremely interesting for companies when it comes to their digital communication and marketing strategies, embellishing their brand image or instituting change management. But serious games do not only serve as corporate playthings, they are also a way that non governmental organisations and pressure groups seek to inform, raise awareness and influence opinion.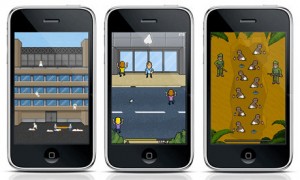 Take for example This War is Mine. a serious game based on the difficult choices to be made when fighting amongst a civilian population or Phone Story which is about what it takes to produce a cell phone and chronicles the slave-like lives of seven overworked Chinese laborers who committed suicide while building the world's mobile devices. But even though a certain number of serious games exist for mobile devices are they good enough to replace, or at least rival games on more traditional gaming platforms? The answer is probably yes, if the success  of Angry birds and Candy Crush is anything to go by! Playing on the go is visible everywhere.  So the next question is, who will develop the first killer serious mobile game? Watch this screen!
The link for the studies on the serious game market :
To go further :
Two examples of games available on the google playstore :