What you should know about Microsoft's takeover of Nokia
According to MITs technologyreview.com, Microsoft's acquisition of Nokia seems to be a good deal for the American giant, boosting its position in mobile phones market and getting hold of some very useful patents. However, this operation might have some unexpected effects. After the departure of Steve Ballmer, the former CEO of Microsoft, the American firm decided to go through a reconstruction and renovation process. As a result, the company purchased the last major European manufacturer of mobile phones. This operation, which cost over $7 billion, promised to incite the arrival of a new competitor in the cellular market.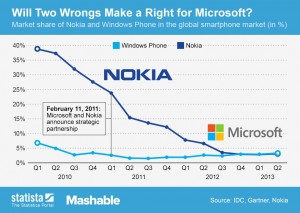 What are the  reasons behind this acquisition?
The acquisition of Nokia's mobile division is a sign of failure of the strategic decisions taken by the two parties at different times. Microsoft was unable to to or unwilling to embrace mobile even though it once had an mobile operating system and a number of experienced partners while Nokia imagined itself pretty much invincible, right down to telling customers what they did or didn't need. So the only way for Microsoft  to get its Windows mobile OS on devices in any great numbers was to make Nokia put it on their phones.¹ The convergence between the two companies seems to be quite natural according to Dr. Joseph Aluya of the University of Phoenix, in his case study of Nokia Corporation leading to the acquisition by Microsoft . In purchasing of Nokia's mobile business  Microsoft aimed at internalizing the production of Windows Phone smartphones. In fact, 81.6% of the sales of Windows Phone smartphones, in the second trimester of 2013, were made by Nokia. Hence, Windows Phone decided to jump at this opportunity in order to increase its Operating System's market share and compete with Apple's iOS and Google's Android. According to International Data Corporation (IDC), Windows Phone's share of the mobile operating system market was only 3.7% in the second trimester of 2013. Windows Phone could seize the chance of expanding its reach but only if Microsoft had a free hand with Nokia. According to Redmond article in microsoft official website, Steve Ballmer motioned that "the main objective is to accelerate its market share and profits in mobile." Nonetheless, in order to reach the break-even point on an operating basis, Bloomberg shows that Nokia's smartphones sales will have to increase from 30 to 50 million units per year. Microsoft will now maximize its profits on every smartphone sold. So far, it has received less than $10 per Windows Phone smartphone sold by Nokia, under the operating license. However, by owning Nokia's mobile business, it is now expecting to receive more than $40 on every smartphone sold. In addition, more than $2 billion of the $7 billion purchasing operation relates to license agreements on ten-year patents.   Finally, Microsoft expects to generate $600 million in annual cost synergies, 18 months after closing the deal.
And Nokia?
For Nokia, which lost more than €3 billion in 2012, the sale was not  unexpected. All the same, talk of discussions with China's Huawei and Lenovo had also leaked in the press, perhaps to up the ante on the Microsoft deal. A good deal on paper then. According to www.finlandtimes.fi, this operation that cost Microsoft only 25% of its 2012 turnover, € 5.7 billion, has enabled it to take control over Nokia's phones, production capacity and patents. In fact, the American giant will spend €3.79 billion on the phone-making unit, and €1.65 billion on licensing Nokia's patents. However this year, the corporation registered a loss of € 1.1 billion. So is it a good or a bad deal? On the one hand, Nokia is still the world's number two mobile phone manufacturer (14% market share of shipments behind Samsung, 26%). On the other hand, this is a declining and unprofitable activity that remains too expensive. Nokia after buying out Siemens' stake in Nokia Siemens Networks  in 2013 will now concentrate on mobile network solutions and infrastructure still under the NSN but now called Nokia Solutions and Networks.
The price is right?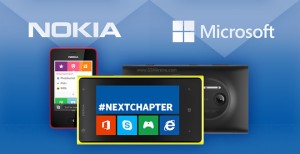 The fact is that the real price of the acquisition is not high, and Microsoft whose cash reserves have reached $77 billion can well afford it. Don't forget that Microsoft were prepared to pay  $8.5 billion  just to acquire of Skype. According to Bloomberg's calculations, Microsoft pays Nokia less (0.35 times its annual income) than the median of the last 60 transactions involving mobile equipment manufacturers (1.4 times). But how risky is this? Extremely risky! Reviving a declining brand of high-tech products is not that easy. Only Apple has succeeded and they had Steve Jobs. In addition, mobile phones do not generate high profits any more, markets are saturated and competition for all types of phone, be they entry level, feature ,or Smart phone only serve to push down prices further. Manufacturing hardware is nowhere near  as profitable as doing the software, and Nokia will drain Microsoft accounts for a good while yet. Finally, Microsoft has chosen to copy Apple's and Google's integrated model, being smartphone manufacturers with their own operating system, a model now rejected by Google as demonstrated by the sale of Motorola to Lenovo in January this year.  Now, Microsoft has its own factories but is a company used to working  with subcontractors, even to produce its Surface Tablet. In addition, 18,300 of the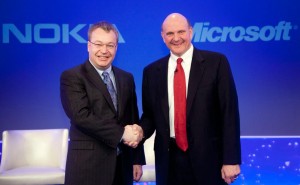 32,000 employees who must be transferred to Microsoft as part of the acquisition are directly employed in the cell phone manufacture. Moreover, Nokia sells more than 50 million of basic cell phones per quarter, phones which will never have a Windows OS on them. How much love will they receive? What can Microsoft do with this business segment, which is completely out of its scope?  By acquiring the mobile division of Nokia, Microsoft brought back Canadian Stephen Elop to the fold. The CEO of Nokia will now supervise the Microsoft Hardware division, which includes Surface and Xbox. He was previously a manager at Microsoft's business division, when he was recruited in 2010 by Nokia. According to some analysts, Stephen Elop was in the best position to succeed Steeve Ballmer. Obviously, relations between the two men has facilitated the transaction. One might even think that Stephen Elop has been opportunistic  to such a degree that might not augur well for the company's future.
¹You can count the number of phones that have windows 8 or Windows 8.1 on them but are not Nokia phones on one hand! See here.
To go a little further:
For a broader view of the risks to shareholders and the future of the Windows phone
The future head of Microsoft?
Elop overtakes his direct rivals because of his double experience in Microsoft and Nokia. As Microsoft wishes to restructure the mobile market no one is better placed than Mr Elop.
On the costs  associated with the Nokia phones and patents handover